Top #5 Colleges for Masters in Automotive Engineering in Canada
Posted by

Categories

Blog

Date

May 24, 2022
Changes in automation requirements are inevitable as the environment changes. Because the automation sector is very competitive, and everyone engaged is attempting to enhance every process, career prospects in the automation industry will only increase.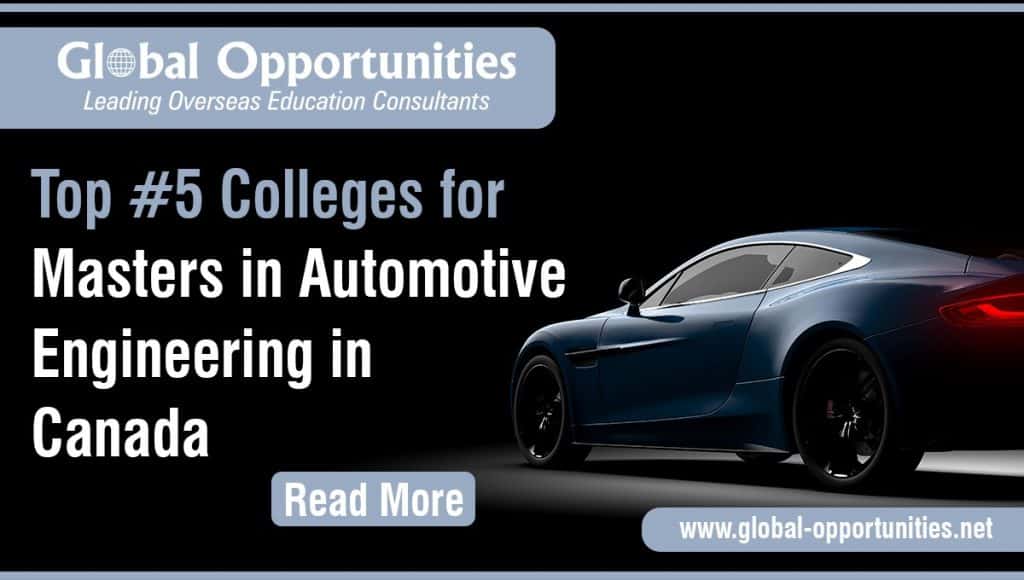 After completing a bachelor's degree in Automation Engineering, Canada is an excellent location for pursuing a Master's degree. Canadian universities provide practical coursework and expose students to real-world experience. In addition, the Canadian government is particularly supportive of automation research and provides students far more freedom than most other countries.
So, whether you want to build or develop a new vehicle or improve an existing one in the future, Canada is the best spot for you. Canada also has many employment openings in the automation sector, with an average annual salary of CAD 80,000.
Let us look at some of Canada's best universities offering master's degrees in automation engineering.
The University of British Columbia
International students make up about 30% of master's students at the University of British Columbia. To attract the top students, UBC also provides attractive scholarships. In addition, UBC has all modern equipment utilized in the automation sector for fundamental and practical research, and tuition prices range from $15,000 to CAD 20,000.
According to the Academic Ranking of World Universities, the University of Windsor is ranked 151 in the world for engineering courses. The University of Windsor offers a dual degree program in which students complete their first year at the University of Windsor and their second year at the Politecnico di Torino in Italy. This allows students to receive solid professional training that will prepare them to work effectively anywhere in the world.
McMaster University is tough to get into for overseas students due to its near-perfect GPA criteria. However, a master's degree from McMaster guarantees a solid job position, with most McMaster alumni ending up in senior positions. McMaster teaches advanced technologies to their students and allows them to exhibit their concepts and prototypes to team members and stakeholders.
Students at Simon Fraser University can pursue a master's degree in Mechatronic System Engineering. This program provides students with advanced mechanical design, testing, repair, and assembly skills. This course will cost roughly 5000-10000 CAD intuition and around 15000 CAD in living expenses.
Getting a Master's degree in mechanical and industrial engineering from the University of Toronto means learning from award-winning professors. For example, 14 MIE branch faculty members were recently recognized for their contributions. Students here are also known for producing high-quality engines and other automation components. However, with tuition fees up to CAD 50,000, the University of Toronto is perhaps the costliest university in Canada to attend.
University of Ontario Institute of technology
According to student reviews, the University of Ontario has a 4.4 overall score in Higher education. With a 70 percent acceptance rate, Students at the University of Ontario have the opportunity to master a wide range of skills, from manufacturing and powertrains to electrical power and control systems.
Advanced manufacturing, industrial automation, electrical engineering, and computer programming are offered as three-semester programs at Fleming College. International students pay about three times as much as domestic students, with semester tuition of almost 9000 CAD.
Conclusion
A master's degree in automation engineering from Canada allows students to gain practical experience and work with cutting-edge technologies. As a result, students will feel more immersed and prepared for the future of the automation industry. Universities such as the University of British Columbia, University of Toronto, Simon Fraser University, and others listed in the blog give students the exposure to achieve senior positions in the automation industry or work their creativity on personal projects.