IELTS Requirements for USA Study Visa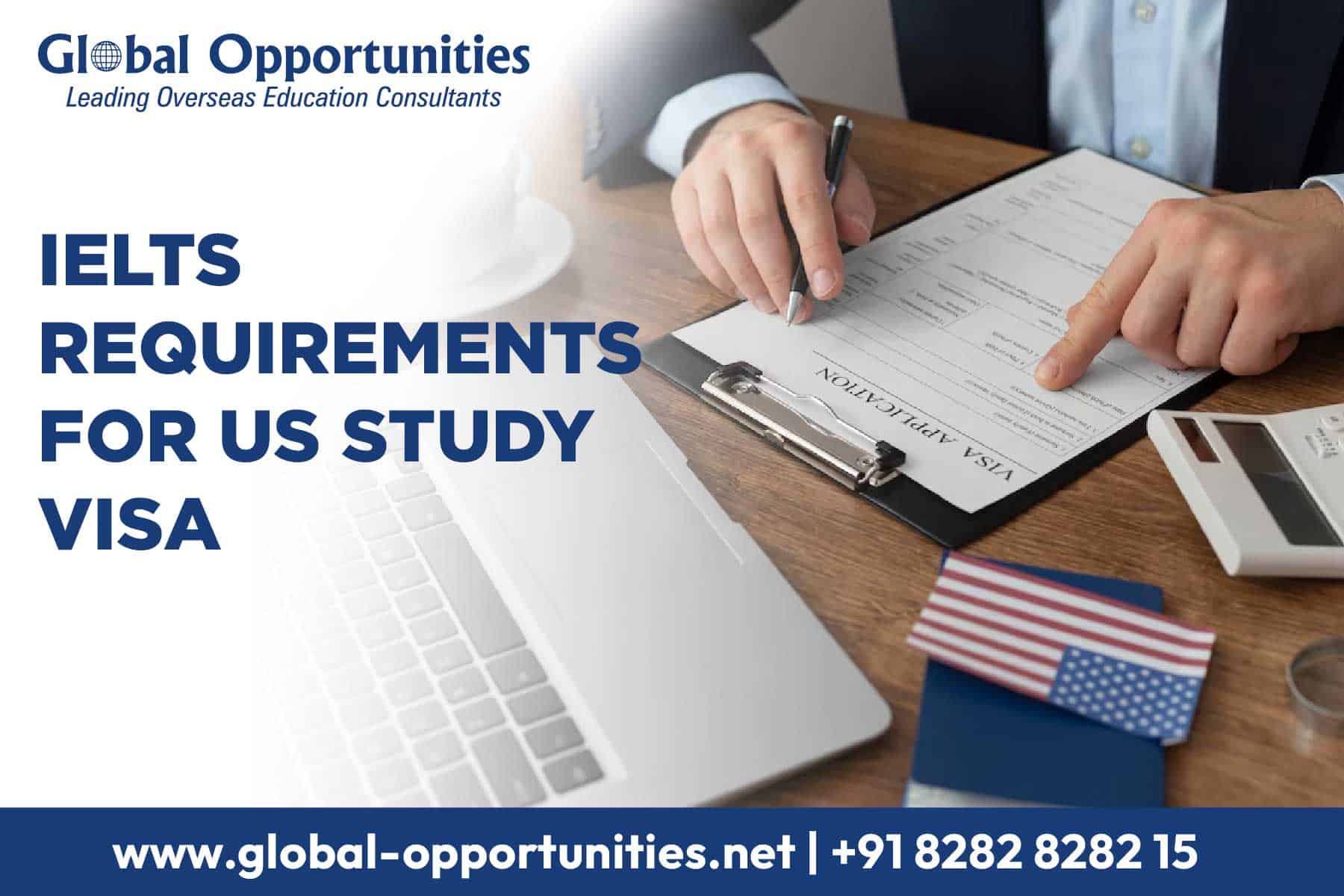 Are you looking for information regarding IELTS Requirements for USA Study Visa? Studying in the United States is a popular choice among Indian students due to the country's renowned education system and diverse academic opportunities. The IELTS is accepted by many institutions and universities in the United States. However, it's important to note that the English language proficiency requirements may vary among universities and programs.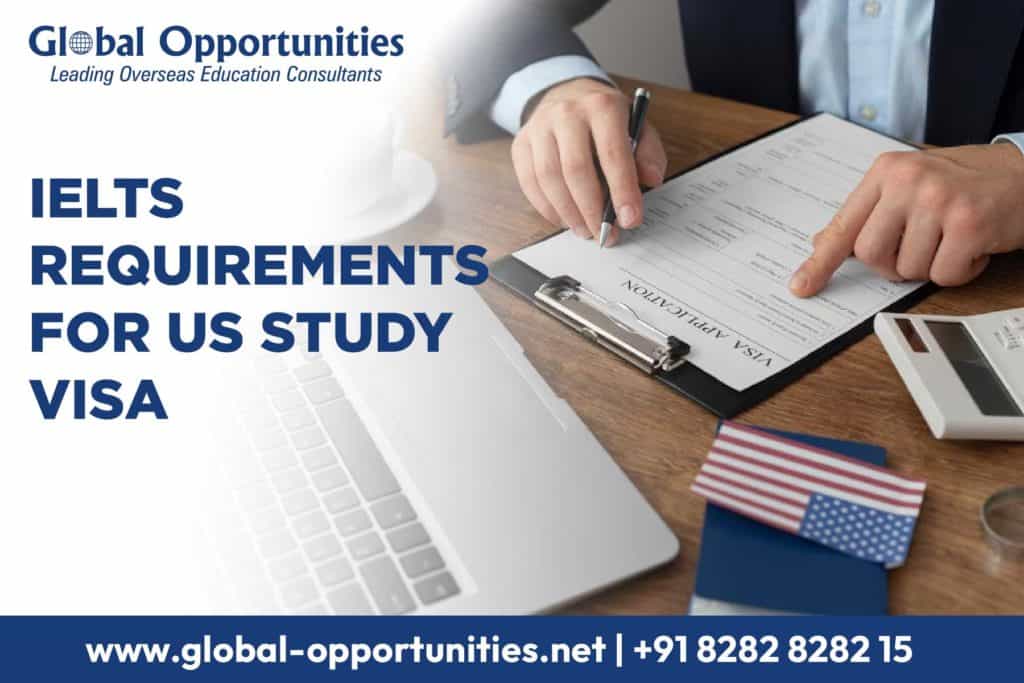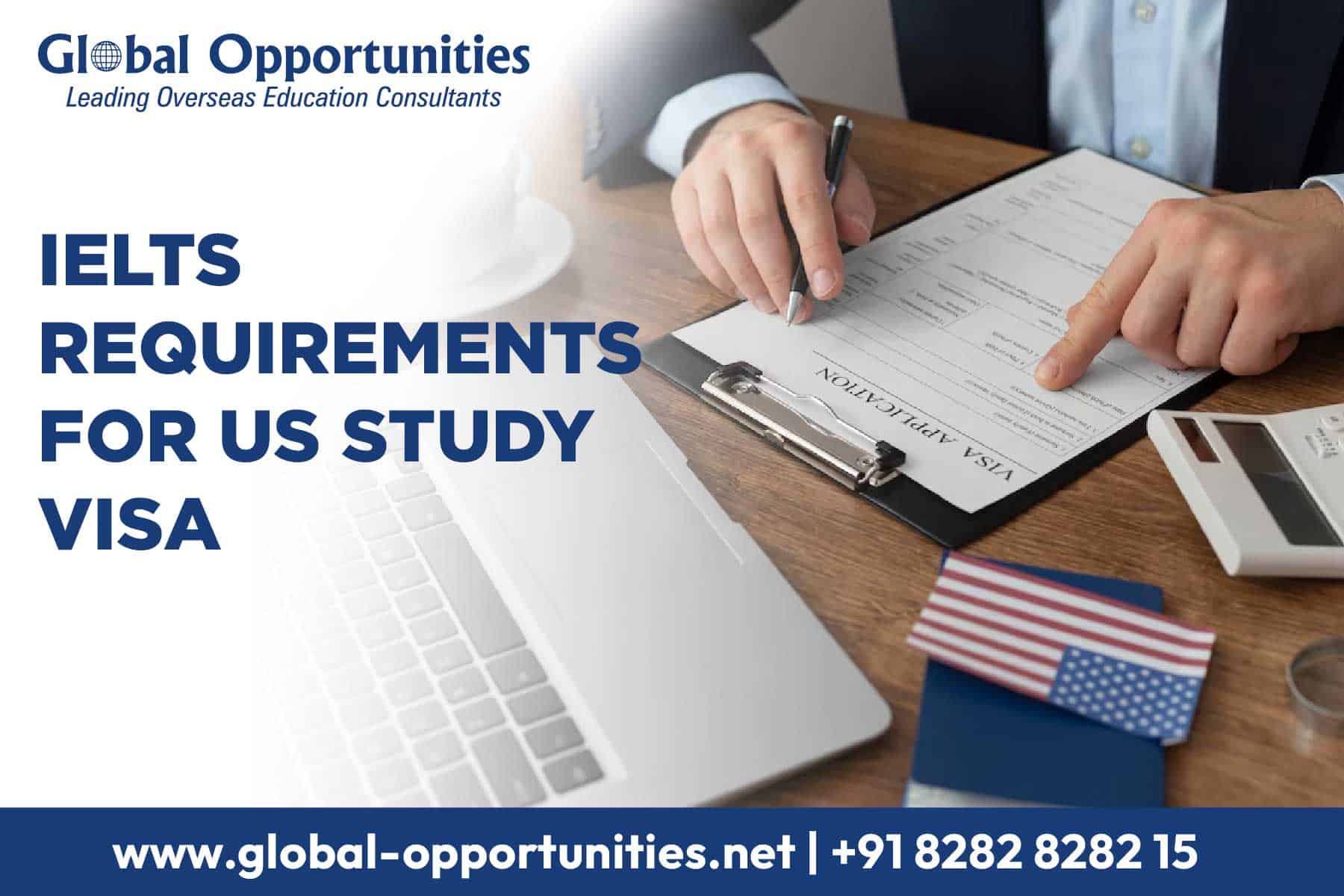 In general, most universities in the USA require a minimum overall IELTS score between 6.0 and 7.5 for undergraduate programs, and between 6.5 and 8.0 for graduate programs. Additionally, individual sections of the IELTS (Listening, Reading, Writing, and Speaking) may have specific score requirements. Some universities may also have specific requirements for certain programs or departments.
To be eligible for a student visa, Indian students must meet the following IELTS score requirements:
For undergraduate programs:

A minimum overall IELTS score 6.5 with a minimum score of 6.0 in each module.

For postgraduate programs:

A minimum overall IELTS score 6.5 with a minimum score of 6.0 in each module.

For doctoral programs:

A minimum IELTS score for a PhD is usually 6.5, with at least 5.5 in each part of the exam.
It is recommended to check the language proficiency requirements of the institution and program you wish to apply to, as well as the official website of the US government for the latest information and updates on visa requirements.
Indian student Life in The United States
In recent times the number of Indian students studying the United States have grown exponentially in the last few years. This significant growth in the United States is due to excellent education programs and opportunities offered in the United States. There is also a mutual understanding foundation between the United States and India which looks after the educational exchange of outstanding scholars, professionals and students. The whole (USIEF) body has granted awards to approximately 20,000 Fulbright, Fulbright-Nehru, and other prestigious grants and scholarships in almost every academic discipline.
IELTS Requirement by Top US universities
Some of the IELTS requirements by top US universities are as follows:
| | | |
| --- | --- | --- |
| University Name | Degree Type | IELTS Overall |
| Webster University | Bachelors & Postgraduate | Overall IELTS of 6.0 |
| University of New Haven | Bachelors & Postgraduate | Overall IELTS of 6.0 |
| University of Arizona | Bachelors & Postgraduate | Overall IELTS of 6.0 |
| Fisher College | Bachelors & Postgraduate | Overall IELTS of 6.5 |
| Saint Louis University | Bachelors & Postgraduate | Overall IELTS of 6.5 |
| Arkansas State University | Bachelors & Postgraduate | Overall IELTS of 6.0 |
| Anderson University | Bachelors & Postgraduate | Overall IELTS of 6.0 |
| Middle Georgia State University | Bachelors & Postgraduate | Overall IELTS of 6.0 |
| Northwood University | Bachelors & Postgraduate | Undergraduate IELTS- 6.0 & Graduate IELTS – 6.5 |
| Ohio University | Bachelors & Postgraduate | Overall IELTS -6.5, all Bands 6.5 |
On average the overall IELTS score required by international students to study abroad is 6.0 to 6.5
How to Crack IELTS to Study in the USA?
The maximum number of US institutions accept TOFEL as English proficiency test scores, however, some institutions accept IELTS as one of the criteria for admission of international students into the university.
Here are some tips to help you prepare for the IELTS effectively:
Understand the test format:

Familiarize yourself with the structure of the IELTS exam. It consists of four sections which are Listening, Reading, Writing, and Speaking. For each of the sections you need to understand the requirements and time limits for the same.

Study the English language:

It is very important to dedicate time to improving your English language skills. Work on your vocabulary, grammar, reading comprehension, writing skills, and speaking ability. Read English books, newspapers, and articles, and practice writing essays and letters.

Take practice tests: Practice is crucial for success in the IELTS exam.Take advantage of practice tests available online or in IELTS preparation books. It is wise to practice from the last 6 months ongoing test papers.Practice under timed conditions to simulate the exam environment.
Focus on listening skills:

The Listening section requires you to listen to recordings and answer questions. Practice listening to various accents and note-taking techniques. Develop your ability to catch important details, main ideas, and specific information.

Enhance reading comprehension:

Improve your reading speed and comprehension skills. Practice reading a variety of texts, such as newspapers, magazines, academic articles, and online resources. Pay attention to vocabulary, sentence structure, and the main ideas of each passage.

Develop writing skills:

Practice different types of writing tasks, including essays, reports, and letters. Work on your organization, coherence, grammar, and vocabulary. Pay attention to the word count and time management during the exam.

Refine speaking ability:

The speaking section assesses your ability to express yourself verbally. Practice speaking english with native speakers or language exchange partners. Work on fluency, pronunciation, vocabulary, and grammatical accuracy. Practice answering questions within the time limit.

Time management and exam strategies:

During the exam, time management is crucial. Learn how to allocate your time effectively for each section. Read the instructions carefully, and double-check your answers before submitting them.

Get professional guidance:

Consider enrolling in an IELTS preparation course or working with a tutor who specializes in IELTS training. They can provide personalized guidance, feedback, and tips to help you improve your performance.

Practice consistently:

Consistency is key when preparing for the IELTS. Set a study schedule and stick to it. Regular practice will help you build confidence, identify your weaknesses, and work on improving them.
Conclusion
In conclusion, the IELTS (International English Language Testing System) requirement for studying or immigrating to the United States plays a crucial role in assessing an individual's proficiency in the English language. In the USA, many people still consider applying for IELTS as the second best option after TOEFL. While the IELTS requirement for the United States may not be as widely recognized as the TOEFL, it is slowly gaining acceptance in certain academic and immigration contexts. As English proficiency continues to be a key factor in successful academic and professional pursuits, individuals should prioritize enhancing their language skills and preparing for the appropriate language proficiency test, whether it be IELTS or TOEFL, to increase their chances of achieving their educational and immigration goals in the United States.
FAQ's
What IELTS score is required for USA study Visa?
The minimum IELTS band required for a USA study visa is 6 to 7.5. However, it totally depends upon the university and program of the applicant's choice.
Is IELTS mandatory for a USA study Visa?
No, IELTS is not mandatory for a USA study visa for those who have completed their international baccalaureate or previous studies in an English-speaking country.
What is the lowest IELTS score for the USA?
To meet the USA visa requirements an overall IELTS score of 6.5 is required, however a band score of 7 in speaking section or test is an added advantage.