A Guide to Higher Education Institutions in the US – Global Opportunities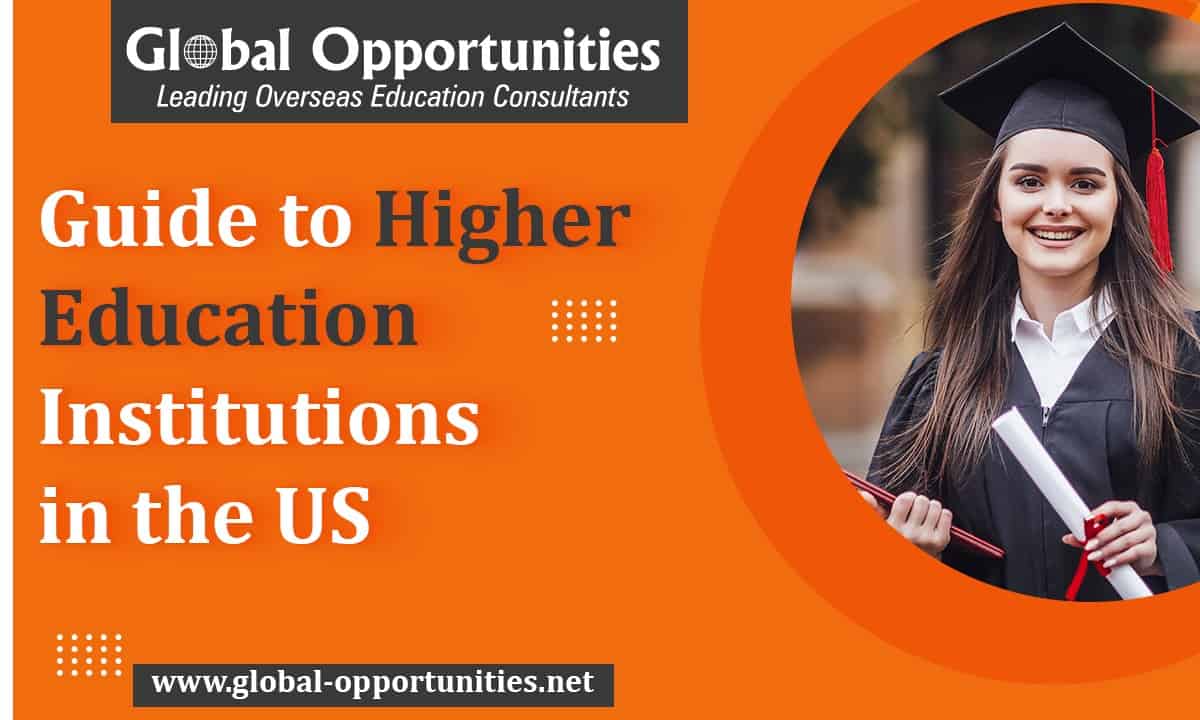 The United States of America is a country that takes pleasure in providing diversity in every field, including education so that everyone can live their lives without being limited and without wasting their time pursuing something merely due to a lack of other possibilities. However, having such a diverse educational system can be challenging to comprehend completely. That is why we thought of assisting you in understanding the types of higher education institutions in the US.
We are confident that the names and types of higher education institutions in the US will sound very familiar to you, as American movies and television series are very popular among our Indian students. Reading this blog will clear any misunderstandings or doubts and provide you with a clear perspective as you plan for a way that will best suit your criteria. So, let's get started.
Public Universities
Public universities, sometimes known as state universities, are funded by taxpayers. There are 1,626 public colleges in the United States, and these universities usually have a long and illustrious past, which might inspire students to be a part of such prestigious institutions. Moreover, because of their inexpensive tuition costs and extensive academic offerings, these colleges attract students from all over the world. Sporting events, talent showcases, and other events at some of the country's most prestigious public universities become the talk of the town, allowing students to shine and set themselves on the path to greatness.
Private Universities
Private universities receive funding from grants or donations rather than from the government. While some institutions may be less stable than public universities, they are highly motivated to succeed in academics, and other sectors since their funding require it. In addition, private institutions are more likely to keep students engaged and focus on each student's strengths to bring out the best in them by surrounding them with the ideal teachers. Profit and non-profit private universities exist in the United States. Profit ones attempt to maximize profit, whereas non-profit ones invest back into the college or donate to the community, as their names suggest.
Community Colleges
Community colleges offer a more open admission procedure, and therefore almost everybody gets admission. Community colleges offer two-year degrees instead of four-year degrees at public or private universities, making them excellent for international students. Community colleges are ideal for students who wish to work and earn while learning since they are less expensive and offer a more flexible schedule. Still, the courses are light and give limited prospects for advancement.
Liberal Arts Colleges
Undergraduate study in the arts and sciences is emphasized at liberal arts colleges. Most Liberal arts schools, unlike other universities, do not have an option for post-graduation. Liberal arts courses have a particular curriculum that focuses on teaching students the skills that will benefit them throughout their lives.
Ivy league schools
Ivy league institutions are comprised of only eight colleges, all of which rank among the top ten colleges in the United States. These universities are regarded for providing the best learning opportunities in various fields, including doctoral education, engineering, and business education, and challenge students from day-1 and push students to set high goals and achieve them.
Conclusion:-
With public universities, private universities, liberal arts universities, community schools, and ivy league colleges, the United States offers students a diverse range of courses and opportunities to achieve their academic goals. They all provide a unique perspective on academics, and students can select one based on their motivation and living circumstances.