Top 10 Scholarship in Canada for Indian Students – Global Opportunities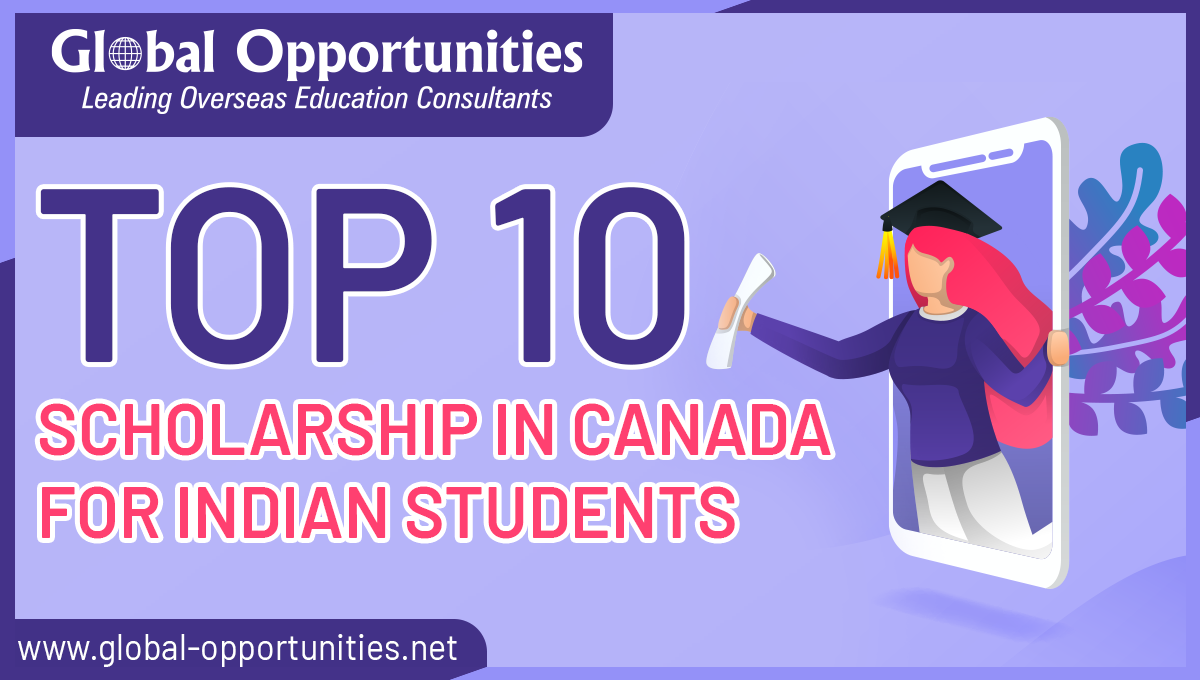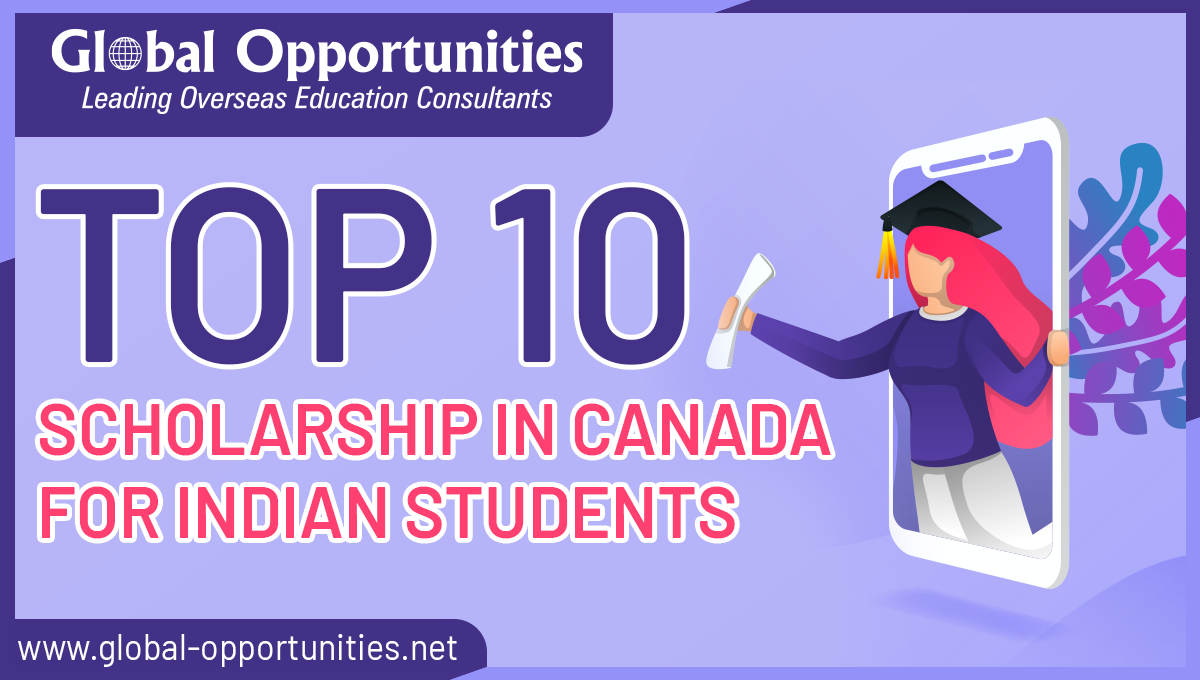 Canada has a special place in the hearts of many Indians, particularly students and their families. Thanks to the friendly and affectionate attitude of its people, Canada is a popular destination for Indians for higher studies. Every year, Canada welcomes hundreds of Indian students, virtually becoming a second home for many of them.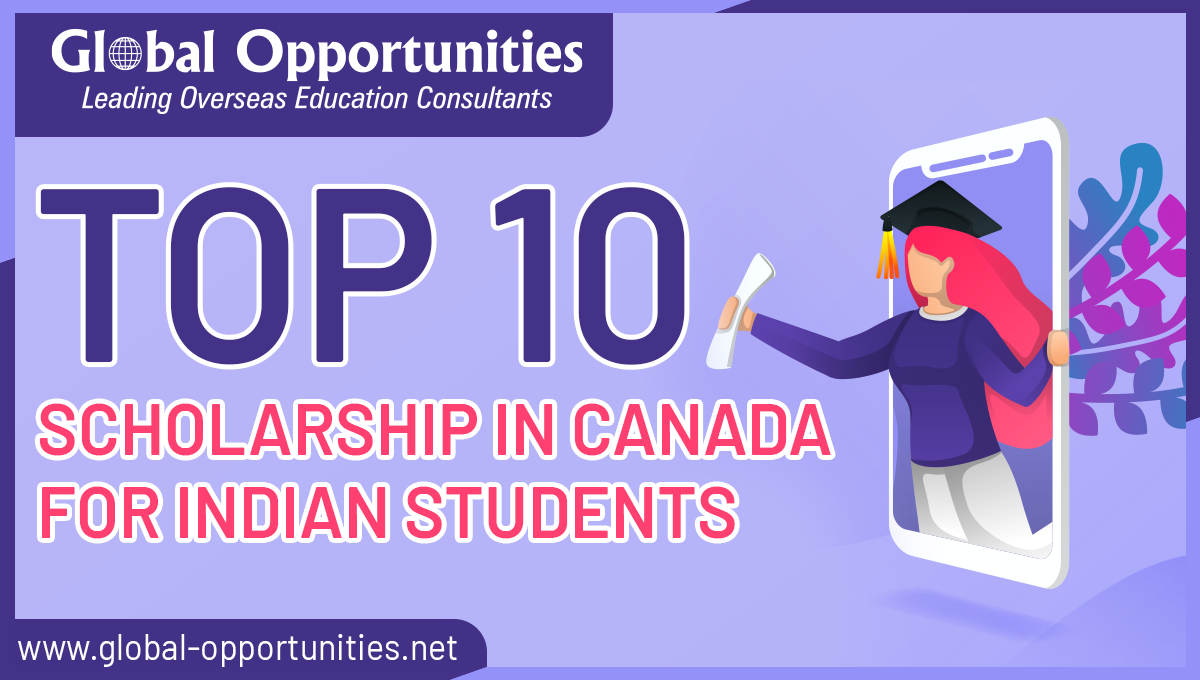 Canada welcomes a good deal of students with its warm hospitality and culture. On top of it, Canada also has meager education costs when compared to other large foreign nations such as the United Kingdom, the United States, and Australia. In addition, it has a very peaceful and safe atmosphere for people of all backgrounds, giving both equal rights and opportunities in its extraordinary land, making it a dream of many students and families to go to Canada to pursue higher education.
Making this goal a reality appears to be within grasp. Across more than 10,000 undergraduate and graduate degree programs, Canada offers several scholarship and bursary options to students at both public and private colleges. Canada recognizes the importance of introducing excellent students, their ideas, and ideals to the country and hence does not hesitate to offer students funding possibilities.
One of the ways to find a place in one of its best colleges or universities is with a scholarship. Indian students in Canada can benefit greatly from such Singapore Scholarship for Indian Students.
Criteria for scholarship 
Before moving on to the scholarships, it is important to know what criteria you need to fulfill in order to be eligible for the scholarships. First and foremost, it is important to have a good academic score. Other than this, factors such as chosen destination, subject, and level of the course also play a key role. Sometimes, extracurricular activities and volunteering also matter in acquiring the desired scholarship.  The scores of an English language proficiency test like IELTS are also required by some Canadian universities.
Let us now know about some scholarships in Canada available for Indian students.
Undergraduate In-Course Bursary Program 2022
Under this scholarship program, the government of Canada provides partial scholarships to students with financial issues. Students need to fill in their financial details on their desktop or laptop and wait for the selection committee to review their facts.
Vanier Canada Graduate Scholarships
Indian students showcasing leadership skills or a high level of academic talent in any major field are eligible to receive $50,000 each year for three years.
Trudeau Scholarships and Fellowships
Students who have performed excellently and have showcased their exceptional skills in their field receive 40000 CAD per year to cover tuition and living expenses to keep them focused on their work.
How Global Opportunities can help you find the best scholarship for you.
In today's world, where knowledge is abundant, students frequently read too much, misunderstand it, and receive no response to their scholarship or other requests. Global Opportunities is the ideal place for Indian students who want to move to Canada to pursue higher education because we don't just provide information based on what we read; we communicate directly with universities and don't just pass the information on to students and their families; we act on it and help them get the best scholarship available promptly.
With our expert counsel, Global Opportunities assists students in making decisions without leaving any room for doubt. We help students find the course of their choice and show them the best path to future success. We then understand the value that students will bring to Canadian universities and convince them to offer the best scholarship deals for Indian students.
NOTE: – Global Opportunities believes that no student should be denied a scholarship due to a lack of awareness or more so due to the weight of paperwork, inaccurate communication, or failure to understand and impose their abilities to the required level. If you are interested in learning more about scholarships for Indian students in Canada, please contact us by phone at +91-8282828215, or by email at info@global-opportunities.net for any queries regarding Scholarship for Indian students in Canada.