Benefits of Scholarships For Indian Students To Study in UK? Apply here!
Posted by

Categories

Blog

Date

May 16, 2022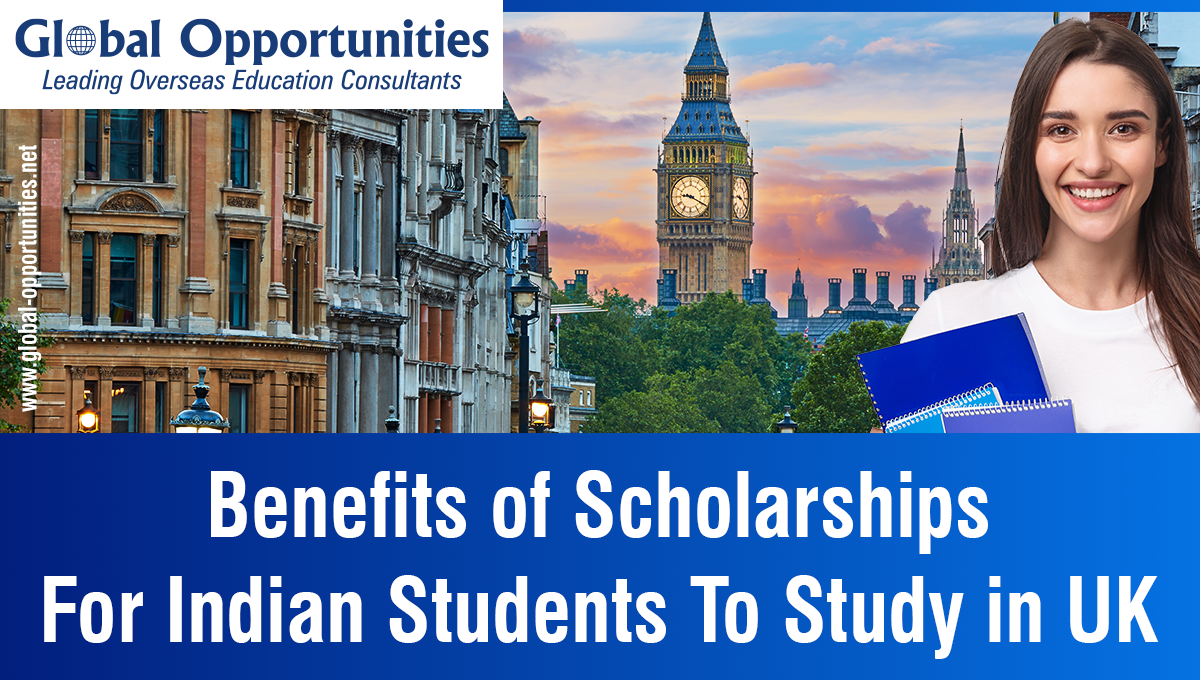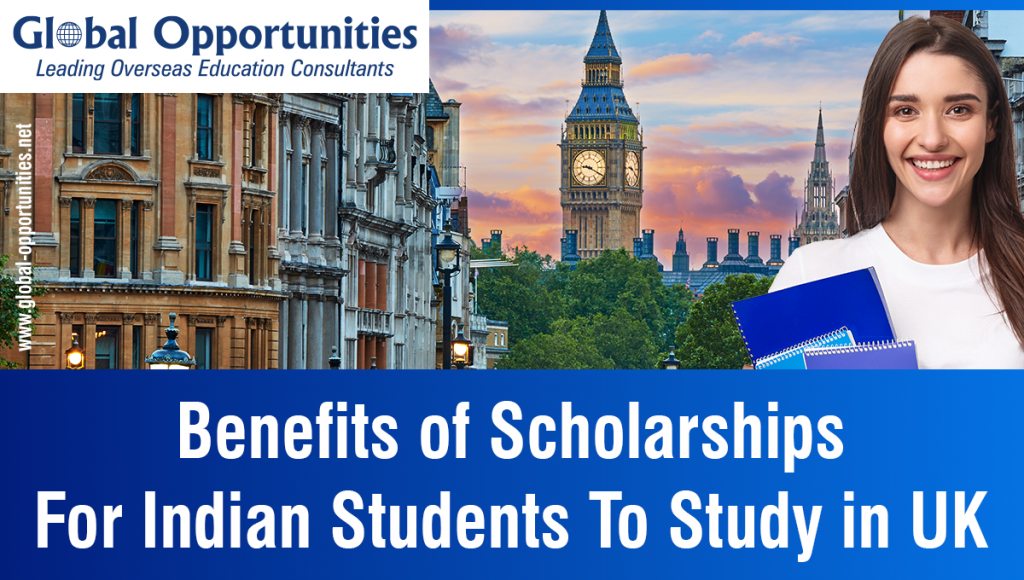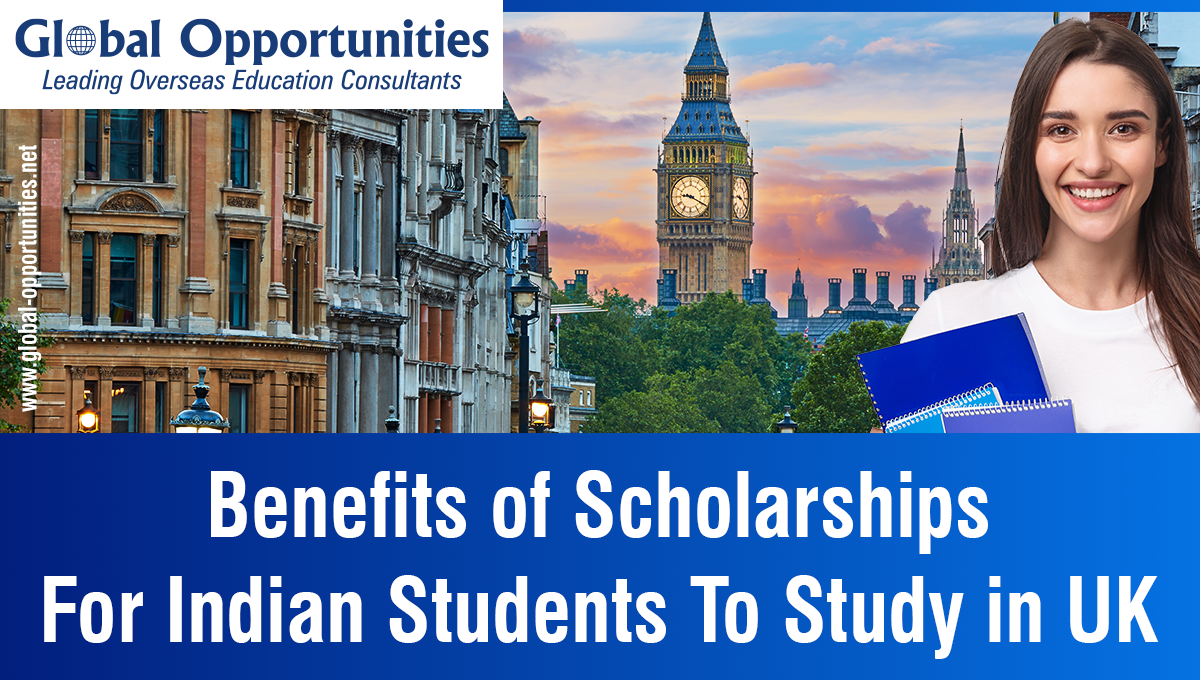 The United Kingdom has become home to some of the world's most prestigious and sought-after universities. These colleges provide high-quality education that leads to alumni earning a name for themselves at the top of their fields. Global Opportunities represent over 125 universities all over the UK and provide this opportunity of a lifetime to Indian students. Every year, thousands of students benefit from scholarships for Indian students in the UK.
Indian Student's Reputation
Indian students have earned a reputation for excellent morale, positivism, and respect in the university by embracing Indian culture. Moreover, colleges recognize the worth of our Indian students and provide unique scholarships to them. Therefore, studying in these world-class universities is a match made in heaven for our students to climb the ladder of success and achieve outstanding accomplishments. We consider ourselves fortunate to assist students in gaining admission to these universities by guiding them through the entire application process.
 What is Required from an Indian Student to be eligible for a scholarship from the UK?
Global Opportunities examine each student's academic performance, artistic skill, athletic achievements, family financial circumstances, and other factors that may qualify our Indian students for a scholarship in the United Kingdom. We believe that your love for the study will pay off from the outset, and scholarships from prestigious UK colleges are just the beginning.
Global Opportunities inform Indian students about available scholarships and how to apply for them. Let us see how these scholarships can be highly beneficial to the students:
Scholarships reduce the family's financial burden and make it possible to pursue education in the UK. Further, during their stay in these UK Universities, the students feel less pressure from the enormous fees and can focus on their studies.
Give students the impression that their universities want them and are not on a one-way street. Students feel welcomed in the university, obviously, the change of shifting to the United Kingdom is enormous, but scholarships make the settling in part relatively more comfortable.
Influences public and family perception. Education can be a highly debated topic among friends and family, even with the unknowns; scholarships from top UK Universities can get everybody on the same side, sometimes even making the decision a no-brainer.
Instills confidence in students' ability in themselves. As the levels of education grow; students sometimes feel unprepared to take the next step; a scholarship gives Indian students confidence to handle and succeed at their courses in UK universities.
Scholarship in the UK can start the journey positively and give it the necessary momentum that might never end.
A scholarship makes Indian students more sought after and intriguing to other students who want to learn more about them. This can lead to more friendships and connections, which can be highly beneficial in the long run.
Feel free to connect with our experts for a free counseling session
But most importantly, a scholarship might turn out to be crucial in getting our Indian students into top UK universities. Top colleges like to populate their campuses with a diverse range of cultures, people, and skill sets that fluctuate to meet their needs, where a window of scholarship for Indian students can open or close at any time. Global Opportunities will assist you indirectly in contacting these universities, discovering exactly what they are looking for, and analyzing how to make yourself eligible for UK universities' scholarships.
NOTE: – Global Opportunities believes that no student should be denied a scholarship due to a lack of awareness or more so due to the weight of paperwork, inaccurate communication, or failure to understand and impose their abilities to the required level. If you are interested in learning more about scholarships for Indian students in the United Kingdom, please contact us by phone at +91 11 47141414, +91 8282828215, or by email at info@global-opportunities.net for any queries regarding Scholarship for Indian students in the UK.