MBA in Canada for Indian Students Without GMAT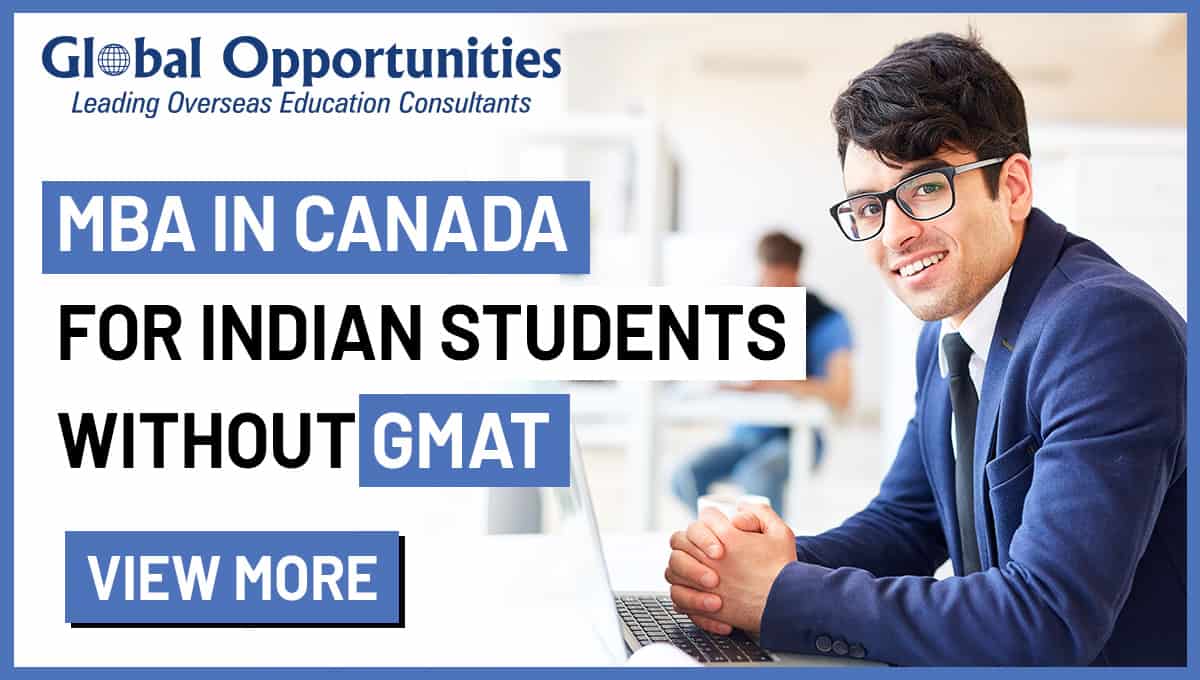 With the world's best universities and largest business enterprises, studying MBA in Canada is the true gateway to success. Thousands of students across the globe aspire to study in Canada because it offers an array of facilities' students have access to post-study visa opportunities to permanent residency in the country. Yet, MBA in Canada can be extremely competitive but there is a way to prove your merit without giving the grueling GMAT exam. Students aspiring to study management in the country can opt for MBA in Canada without a GMAT exam.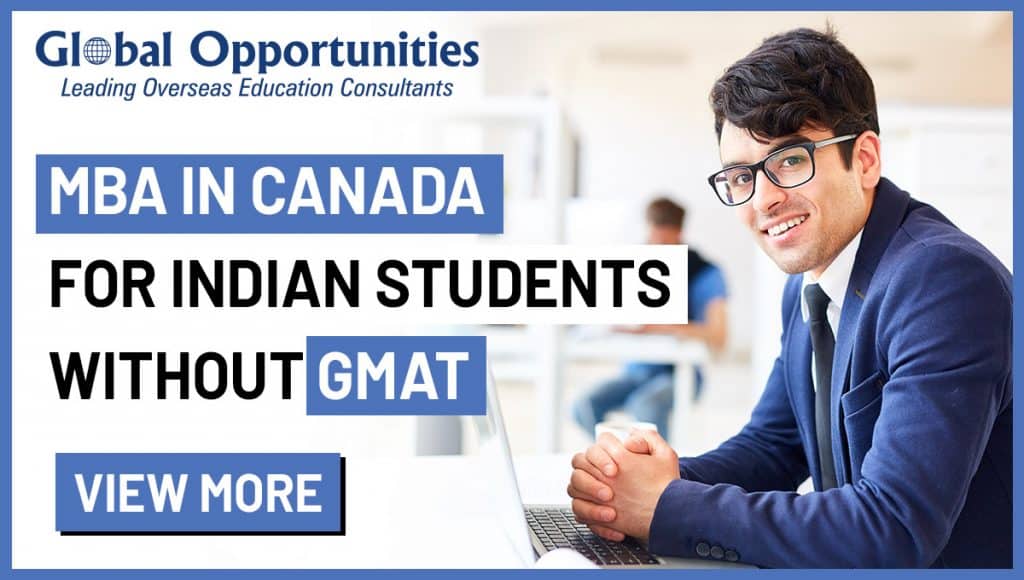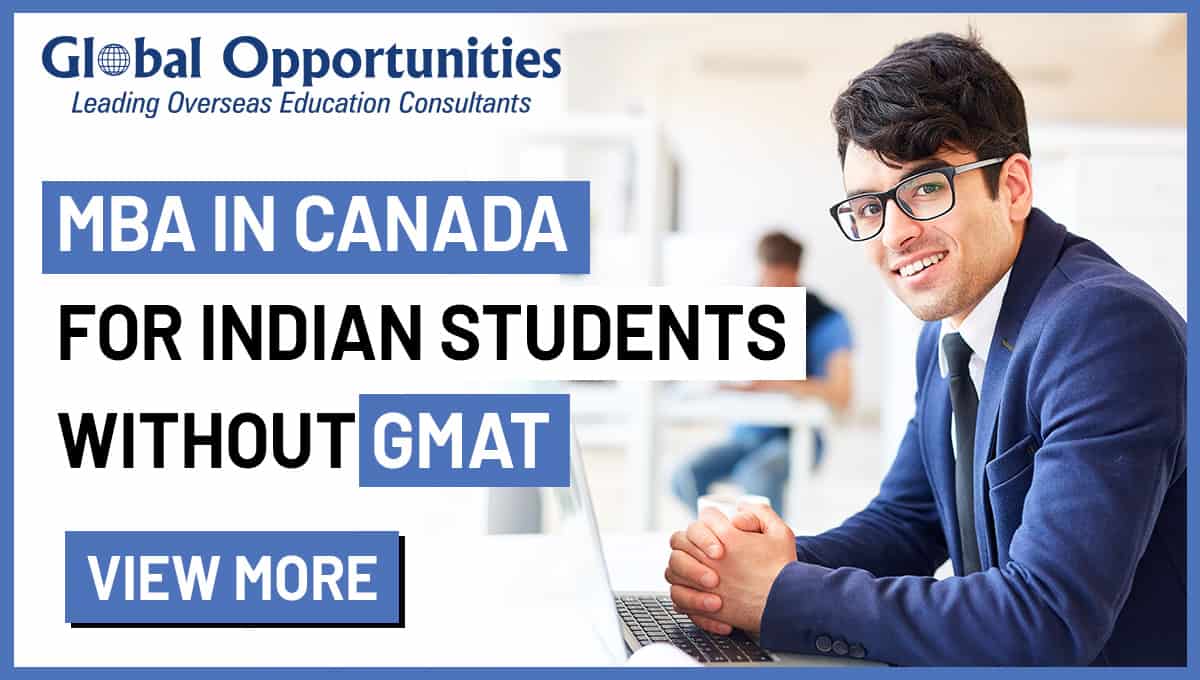 Most of the business schools in Canada require either GMAT or GRE scores to give admission to MBA programs. However, there are universities and business schools in Canada that do not ask for GMAT scores while giving admission to an MBA degree. Pursuing an MBA doesn't mean that colleges will compromise the quality of education. If a college is not asking for GMAT in that case you need to fulfill the other criteria set by the University for Admission Requirements.
Admission requirements to study MBA in Canada without GMAT
GPA or 3 or more in the UG degree
Work experience: Usually universities ask for 2-3 years of work experience
Admission Essays
A stand-out resume or CV that showcases your undergraduate degree, internships, and skills, may help
A strong letter of recommendation (LORs) (2-3, as demanded by the university)
Different types of MBA degrees in Canada without GMAT
Apart from regular/full-time MBA degrees, few universities offer different types of MBA degrees in Canada without GMAT. These programs are offered on both a full-time and part-time basis. Some of the MBA programs in Canada are without the GMAT.
Executive and Part-time MBA at the University of Toronto
Executive MBA at Concordia University
Executive MBA at McGill University
Executive MBA at HEC Montreal
Accelerated and Executive MBA at Ivey Business School
MBA Colleges in Canada without GMAT
There is a varied range of MBA colleges in Canada without GMAT and conduct their admission process focusing on other alternatives such as GRE scores, work experience, academic records, etc. Here are the MBA colleges in Canada without GMAT are:
Thompson River University
University of Canada West
New York Institute of Technology, Vancouver
Trinity Western University
Vancouver Island University, Canada
York University
Brock University, Canada
University of Windsor
Benefits of pursuing MBA from Canada
With a good MBA degree, one can learn ways to manage businesses more effectively. MBA is fruitful for those who wanted to gain management skills within a business environment. Companies also prefer those professionals to overtake leadership roles who have great communication skills and the ability to solve complex issues in a difficult business environment.
The admission and visa process is simple.
Education institutes/Colleges in Canada offer internationally recognized degrees at an affordable cost.
Business programs offered by Canadian institutes give a boost to the careers of MBA professionals, thus ultimately enhancing their earning potential.
The internship programs help the students to get an insight into the industry.
The MBA degree imbibes real-world knowledge, so, the MBA professionals get to learn various nuances of the business world.
Job opportunities after MBA
There is no dearth of opportunities for the right candidate. MBA graduates are paid amongst the best in the world. After completing their MBA program, they can work in various sectors like:
Accounting and consultancy
IT services
Health industry
Education
Oil and Gas
Legal jobs
Apart from this, MBA graduates can also work for various departments of the Canadian government and help in running the administration effectively. Moreover, management graduates can also work in technical management, sales, marketing, product, and project management.