Apply for scholarships for Indian Students in New Zealand
Posted by

Categories

Blog

Date

May 17, 2022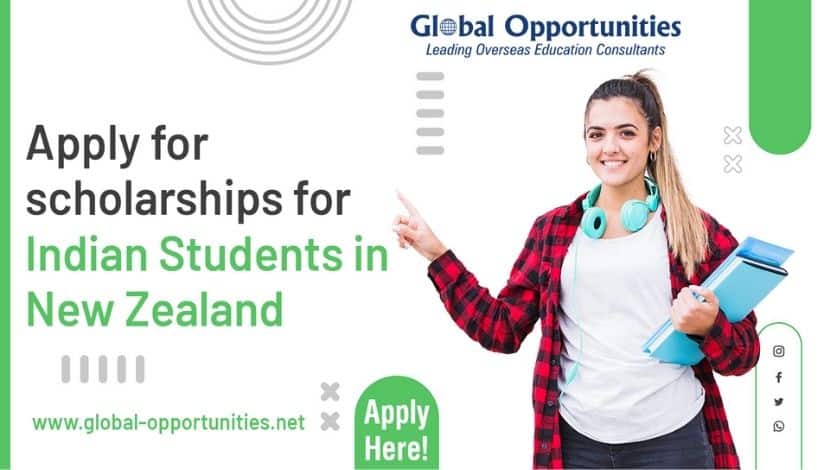 If you are dreaming of pursuing higher education in the scenic country of New Zealand, you must know everything about scholarships available for Indians in New Zealand. New Zealand is one of the best countries to study in. With its attractive landscape, eye-catching beauty, welcoming attitude of the people, rich culture, and world-class universities, New Zealand is sought-after by many graduates and college students for higher studies.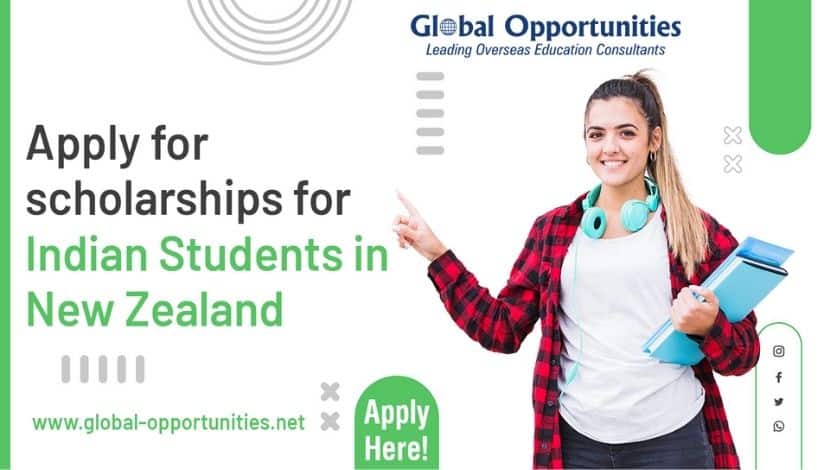 But before planning your study abroad dream, it is crucial to keep all the information about scholarships for Indian students handy. After all, finding a good university in your dream country can take some time and energy. Your dream of studying in New Zealand will come true if you plan it in advance. One of the most important aspects of good planning is finding the right scholarship. If you are serious about your education in New Zealand, you will have to apply for a range of scholarships offered by their colleges and universities. Also, you will have to apply for the same before the deadlines.
It is also important to stay careful about details such as criteria, eligibility, and application closing date. In this blog, we give you a thorough outline of all the details that you need to know about scholarships for Indians in New Zealand. Before we know the different types of scholarships available, let us know the major criteria for applying for scholarships in New Zealand.
Criteria for applying to scholarships in New Zealand
In any scholarship that you apply for, there are a few criteria that need to be met first. It is a known fact that the first and foremost thing when applying for a scholarship is a good academic score. Other than this, some other factors such as the type, level, duration of the course, college or university's popularity, and study destination play a key role. If you are into volunteering, sports, and other extracurricular activities, you will certainly have an extra edge. Also, eligibility criteria vary from country to country.
As far as the amount of money is concerned, there is no fixed amount of scholarship for any course. The money and award available as scholarships vary according to institutions. Some scholarships provide a 100% tuition fee along with basic living expenditures, while others may not do the same. In addition, some scholarships are more difficult to avail of due to higher competition for them. It is better to be always timely when it comes to applying for a scholarship. You can start the application process well in advance before the intake for your desired course begins.
Here's a list of some popular scholarships you can apply for:
New Zealand International Doctoral Research Scholarships (NZIDRS)
These scholarships are designed for Indian students who wish to pursue a Ph.D. in New Zealand. The scholarships are sponsored by the New Zealand government and operated by Education New Zealand.  It is a merit-based scholarship that includes a living cost of NZ$25,000 per year, travel expenses, and health insurance of up to NZ$500 for a total of three years. Some amounts may vary according to different education providers.
New Zealand Commonwealth scholarships
Students who are pursuing a master's degree or a Ph.D. can apply for a Commonwealth Scholarship and Fellowship Plan (CSFP). In addition to full tuition fees, living expenses, travel, and health insurance, this scholarship will offer an allowance of NZ$ 491 per week for living expenses. Apart from this, other medical, travel insurance, and research costs for postgraduate students will also come under the scholarship.
New Zealand Excellence Awards
One of the most comprehensive scholarships, NZEA provides scholarships across all the eight universities of New Zealand, offering a gamut of opportunities to Indian students. This scholarship will allow students to experience the best of New Zealand. Funded by Education New Zealand (ENZ) and New Zealand universities catering to Indian students, the number of scholarships available in PG programs is 28 and that of UG is 3. The value of this scholarship is NZ 5,000 each for the PG course and NZ 10,000 each for the UG course. For the PG course, the value of this scholarship is NZ 5,000 each and for the UG course, it is NZ 10,000 each.
SEG Scholarship
Funded by the Soshi Educational Group, this scholarship is meant to promote undergraduate and graduate study of geophysics and related geosciences. The scholarship can be availed for one year.
The value of scholarships is as given:
a) Scholarship A: NZD 7,000 annually
b) Scholarship B: NZD 5,000 annually
c) SEG Scholarship C: NZD 3,000 annually